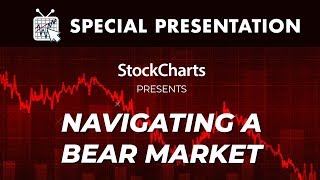 This week was a first for us, but it marks the start of something big – a unique integration between the content you follow from our team of market experts and the charts that you use in your own StockCharts account. Allow me to explain.
Late last month, we released a new special on StockCharts TV called "Navigating a Bear Market". In this 1-hour presentation, we took ten of our most dynamic contributors and brought them together to share the strategies, routines and processes they use to navigate deteriorating conditions and analyze the markets in times of stress.
We've seen wild swings these past few weeks as the historic bull run came to an end and a new bear market took hold. With conditions changing so rapidly, there's a good chance you're wondering what the experts are watching.
How are they managing risk?
Where are they finding opportunity in the face of high volatility?
How do they handle weakening prices and choppy charts?
Well, that's exactly what we had them sit down and answer in "Navigating a Bear Market". Packed with powerful insights and unique ideas from a world-class team of chartists, this special will help you better understand how some of the industry's sharpest technicians are navigating today's chaotic market. Check it out here.
But now here's the best part...
We Took It A Step Further For Our StockCharts Members
As a members-only exclusive, we've collected all of the charts you see in our "Navigating a Bear Market" special and organized them in a new ChartPack that you can install straight into your own StockCharts account (plus three bonus lists for good measure!)
Totally free for our Extra and PRO members, our "Navigating a Bear Market" ChartPack will give you 13 ChartLists from 13 different analysts, each full of charts created and used by these experts themselves. That includes charts from John Murphy, Martin Pring, David Keller, Arthur Hill, Dan Russo, Greg Schnell, Erin Swenlin, Tom Bowley and many others.
Right from their screens to yours, you can add these experts' favorite charts to your account, follow along with the presentations and bring their analysis into your own workflow. Plus, they're real live charts, just like any you'd create yourself on StockCharts. Use them as is, the way our contributors designed, or let them be a starting place, something to modify and customize and make your own.
Extra & PRO Members: Here's What To Do
If you're a StockCharts Member with an Extra or PRO account, getting the new ChartPack couldn't be easier. Simply CLICK HERE to visit the ChartPack page, then look for the big green "Install ChartPack" button at the bottom of the page. Give it a click and the 13 new ChartLists will appear in your account alongside all of your other lists. Each one will begin with "SC - Navigating a Bear Market" to indicate that it's part of the ChartPack.
Basic Members: Here's What To Do
If you're a StockCharts Member with a Basic account, you'll first need to upgrade to Extra or PRO in order to get the ChartPack.
Our Basic service level gives you one ChartList, but when you upgrade to Extra or PRO, you'll unlock up to 350 ChartLists for your account. In addition to installing ChartPacks, you'll gain tons of storage space to organize and analyze your charts like never before. Second only to your charts themselves, I'd argue that ChartLists are the next most important feature on StockCharts and will definitely enhance what you are able to do with the platform.
To upgrade your Basic account now and unlock premium features like ChartPacks and more saved chart storage, click here.
Not a Member? Here's What To Do
If you're not a StockCharts Member, the time to sign up is now. Our free 1-month trial will give you a brand new Extra account, and you can install the new "Navigating a Bear Market" ChartPack at that point.
ChartPacks are just the tip of the iceberg though. You'll be able to create bigger, better, more advanced charts that you can save to your account. You can use ChartLists to track your portfolio or create watchlists, run custom technical scans for the criteria you look for in new trades or investments, and set custom alerts to help keep yourself one step ahead of the markets.
Our most powerful tools and features are always reserved for members, so check out our free trial today and see how a StockCharts membership can help you get more from your charting experience.
---
I hope you'll take advantage of this special "Navigating a Bear Market" ChartPack and the chance to bring the work of these incredible experts straight into your own StockCharts account. It's a unique way to make their processes your own and model your investing routines after some of the industry's best. Enjoy!
Chart on, my friends.
- Grayson Roze
VP of Operations, StockCharts.com
Author, Trading For Dummies (Wiley, 2017)
Author, Tensile Trading (Wiley, 2016)